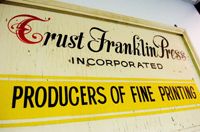 Printed materials drive your business. You need a printer that meets your needs for a fair price, top quality–and getting the job done on time.
For over 100 years, Trust-Franklin Press has provided high levels of service and value to Pittsburgh designers, print brokers, small businesses, large corporations and churches, synagogues, schools, colleges and other nonprofit organizations.
A family business since 1908, Trust-Franklin Press is led by owner Gary Friedman, who continues the tradition established by Ralph and Simon Trust and by his father, Milton Friedman, for customer-focused, quality one- to four-color printing.